Performing Arts Dance Program Announces Guest Choreographers for Fall Dance Concert
Tue, 09/11/2018 - 3:09pm
The dance program is eager to announce a few exciting projects that are in the works, particularly State of LA Danse.  There are five local as well as international guest choreographers contracted for State of LA Danse this semester. What makes it even more interesting is that of the five artists, three are graduates of the dance program and one is a Louisiana native that is a new dance faculty member.
Clarice Young is an Associate Professor at UNC-Greensboro. She is also a former Ronald K. Brown/Evidence, A Dance Company, soloist and rehearsal director. Young is an original member of Camille A. Brown & Dancers and former assistant who continues to work with the company as a guest artist. The New Roads, Louisiana, native received her B.F.A. in Dance from the University of Louisiana at Lafayette and in 2014 received her M.F.A. in Dance from Hollins University. Her emerging choreographic works have been set on her alma mater, Ailey/Fordham B.F.A. senior solo work and at Dixon Place. Most recently Clarice was on faculty at the prestigious American Dance Festival.
Clarice will be setting a piece from Ronald K. Brown/Evidence A Dance Company repertory. It is the dance program's goal for this piece to have 2 lives, the 1st one for State of LA Danse, and the 2nd next spring during Evidence's dance concert at the AcA (Acadiana Center for the Arts).
Eric Rivera, a native of Puerto Rico, earned his MFA in Choreography from SUNY Purchase College. During his performing career he danced with Ballet Hispanico of New York for 13 seasons where he helped to create over 20 original works. He also performed with Minnesota Ballet as principal dancer, Ballet Theater of Pennsylvania, Ballet Teatro Municipal de San Juan P.R., Danza Jazz de San Juan and in the European tour of West Side Story. He has appeared as guest artist in different companies such as Connecticut Ballet, Thomas Ortiz Dance, Ballet Concierto de Puerto Rico, Westchester Ballet and Brooklyn Ballet. Eric had the pleasure of performing choreographies of Ann Reinking, Mark Morris, José Limon, Kenneth McMillan, Margot Sapinton, Graciela Daniel, Kevin Wynn, Vicente Nebrada, Talley Beatty and George Balanchine. His works have been presented by Dance Iquail, Ashani Dance, Convergence Ballet, Owensboro Dance Company, CSU Fullerton, Western Kentucky University, University of Richmond, Orange County College, Purchase College, Virginia Commonwealth University, L2 Dance Theater, ACDA Baja Region, ACDFA Gala at Little Rock, AR, NY Summer Stage and the show They Called it Rock. His television appearances include PBS' Setting the Stage, NBC's 20th Hispanic Heritage Awards, Hispanic Day Parade with Brenda Blackmon, Puerto Rican Day Parade with Ernie Anastos and the documentary "Pedro Ruiz Home Coming" among others.
Eric taught at Western Kentucky University as an Assistant Professor of Dance. In his creative work as well as in his teaching, he is constantly exploring ways in which to share his Hispanic heritage. Mr. Rivera is an ABT Certified Teacher, who has successfully completed the ABT Teachers Training Intensive in Primary through level seven of the ABT National Training Curriculum.
Mr. Rivera will create an original contemporary ballet for State of LA Danse and Marie Broussard will serve as rehearsal director.
Gina Aswelll, a native of Opelousas, began her studies with Hebert Dancentre and Lafayette Ballet Theatre, where she was a company member for nearly a decade. She studied with the Joffrey Ballet School in New York for a year working with Trinette Singleton, Eleanor D'Antuono, David Howard, Rebecca Wright, Kathy Posin and John Magnus and later acquired her BFA in Dance from UL Lafayette under the direction of Kenneth Jenkins and Sarah Stravinska. Gina has 17 years of experience teaching ballet working with a range of students from beginner to advanced in both Mississippi and Louisiana and has collaborated with Cathy Hebert on several works such as Swan Lake, Paquita, La Bayadere and Don Quixote across Acadiana. She currently teaches at Basin Arts, Jill Listi Dance Studio, Hebert Dancentre, Dance Connection, Studio 84, the Dance Pointe and Core Dance Center and is the ballet mistress for Basin Arts Dance Collective.
Gina will create an original ballet for State of LA Danse.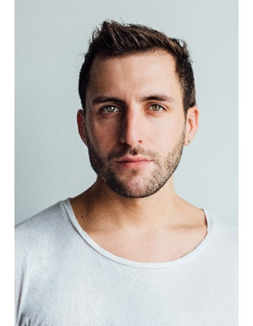 Alex McBride, originally from Lafayette, Louisiana, began his early dance training under the direction of Brandi Holmes at The Dance Place and Mitzi & Shannon Heath at Lafayette Ballet Theater. He went on to receive his BFA from The University of Arizona in Tucson. While in school, he performed works by Jose Limón, George Balanchine, Ohad Naharin, Larry Kiegwin, Douglas Nielsen, and Tammy Dyke-Compton. Additionally, Alex has trained at the San Francisco Conservatory of Dance and River North Dance Company in Chicago rehearsing and performing works by Iván Pérez, Alex Ketley, Robert Moses, and Frank Chaves. Alex now splits his professional time between New York City, where he dances with The Limón Dance Company and has toured across North America and Europe; and Lafayette, where he is an avid member of the local dance community. He has been teaching at Basin Arts and is a guest performing artist with the Basin Dance Collective.
McBride is excited to return home and share with the local community.
Alex will create an original modern work for State of LA Danse.
Brie Castro is the owner/director of Lafayette School of Performing Arts and The Ballet Studio and current Ballet Mistress of Ballet Acadiana. She graduated from the University of Louisiana at Lafayette in 2013 with a Bachelor of Fine Arts and a Bachelor of Science in Business Administration. Brie was classically trained in ballet by Beverly F. Spell and has travelled the country studying with companies including American Ballet Theatre, Louisville Ballet and Ohio Dance Theatre working with Finis Jhung, Bill Hastings, and James Robey. In 2017, she served as a faculty assistant at Dance Teacher Summit held in Long Beach, California. She has performed locally in Firebird with the Clare Cook Dance Theater and Acadiana Symphony Orchestra, Degas with the Lake Charles Civic Ballet and many other UL works including Swan Lake, Paquita, Raymonda, Les Sylphides and Giselle. As a choreographer, Brie has presented work in UL's State of La Danse and Evening of Dance and enjoys choreographing for local dance studios and projects such as Dancing with the Stars for both Crowley and Sacred Heart.
Brie will choreograph an original work with concept design by John Rabalais.