Professor Gjertson and Alumni to be featured at 'Celebrate Architecture' - Canceled
Thu, 04/09/2020 - 10:44am
We are sorry to announce that this event featuring Professor Gjertson and alumni from the School of Architecture and Design was canceled due to the Corona Virus. 
Professor Geoff Gjertson of UL Lafayette's School of Architecture and Design, along with six alumni, will present their educational design/build work at Celebrate Architecture on March 27, 2020. Celebrate Architecture is a one-day design symposium, held each Spring for the last twenty years in Baton Rouge, Louisiana at the Manship Theater. A group of internationally recognized architects spends the day with Louisiana architects, students, and the public, presenting their work and discussing their approach to design. Over the years, Celebrate Architecture has brought in 70 internationally recognized architects. All profits from Celebrate Architecture go to fund the AIA Louisiana Celebrate Architecture Scholarship Program, which annually awards $10,000 in scholarships to students from each of Louisiana's four schools of architecture. The line-up for the 21st CELEBRATE ARCHITECTURE design symposium is: 
Thomas Phifer, Thomas Phifer and Partners, New York City 
Dominic and Christopher Leong, Leong Leong, New York City, Los Angeles 
Geoff Gjertson and Alumni, Building Institute, UL Lafayette 
Geoff Gjertson has been a practicing architect for thirty years in Texas and Louisiana and a professor for twenty years at the University of Louisiana at Lafayette. Gjertson has had the great opportunity to teach every level of architectural design, professional practice, design history, theory, and building systems. His research has focused on the integration of the professional and academic worlds through educational design/build and community service. The Building Institute which he co-founded in 2003 has designed and built over $2 million in projects in Lafayette, Louisiana in support of many underserved communities especially through Lafayette Habitat for Humanity. Through this educational design/build practice students obtain hands-on experience in design, construction, ethics, client relations, social equity, and sustainability. In his twenty years of teaching, Geoff Gjertson has mentored over 600 students. Along with Gjertson, six of his past students will present the BeauSoleil Home, MODESTEhouse, 1020house, and Lafayette Strong Pavilion.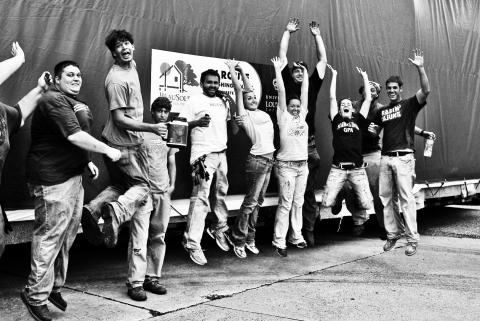 Alexandra Carr ('18) is an employee at Abell + Crozier Architects in Lafayette, Louisiana. As an Emerging Professional, Alexandra works with the design team to produce drawings that fulfill the client's ideas and goals of a project. She holds both a Bachelor of Science in Architectural Studies degree and a Master of Architecture degree from the University of Louisiana at Lafayette. 
Scott Chappuis ('10) has a wide range of design experience over his 10 year career and has executed projects all over the world. Some of the project typologies he has completed include Hospitality, Institutional, Healthcare, Recording Studios, Mixed Use Developments, and Private Residences.  Scott received his first license in Louisiana in 2013 and is currently licensed in four states. As a project leader Scott typically takes a project from conceptual design all the way through construction in order to ensure that the initial vision is realized.  Scott first developed a passion for sustainable design as a Student at UL and incorporates best practices in this field into all of his projects. 
Brad Domingue ('13) went on to work at a commercial firm in New Orleans designing mixed use buildings in the French quarter and CBD. After moving back to his hometown of Lafayette in 2016, he started Brad Michael Design, designing spec homes for Lafayette and surrounding areas.  In summer of 2018, he and his wife Catherine (also a graduate of architecture) began renovating their current home and Airbnb in New Orleans. Since, Brad has become known for and focused on the renovation of historic homes in New Orleans and surrounding.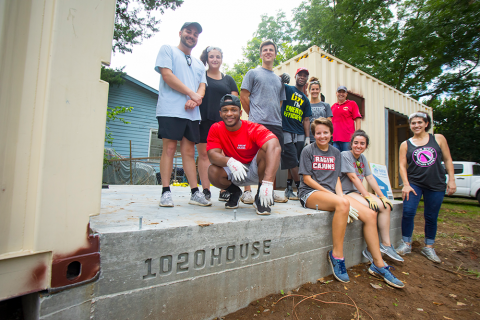 Joshua Floyd ('17) began employment at Tipton Associates APAC immediately after graduation. Joshua travels across the country designing and renovating higher education dining facilities. Joshua is able to explore his interests developed in college through his firm's different cultural initiatives. Joshua is currently pursuing his licensing. 
David Hebert ('18) is an employee of db architecture of Acadiana, whom he interned with through college. They are a design build firm which he was prepared for through his experiences with the Building Institute. His job duties include everything from architectural concept and production to construction administration and management David is currently logging hours in AXP and working towards licensure. 
Thomas Mouton ('17) worked at Mathes Brierre Architects before moving to Fort Worth Texas where he worked at Studio 97W for two years gaining experience on multiple small to medium scale projects. His time at 97W allowed him to work on new construction projects along with adaptive reuse projects in Fort Worth's historic district.  He recently returned home to Louisiana and currently works at WDG Nola architects and engineers in New Orleans as an architecture Job captain.