Country Come to Town: Artists from the NUNU Collective
Monday, June 6, 2016 - 9:00am

to

Friday, June 10, 2016 - 12:00pm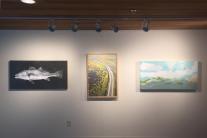 The College of the Arts Dean's Gallery presents Country Come to Town: Artists from the NUNU Arts and Cultural Collective. NUNU Arts and Culture Collective is a non-profit arts organization dedicated to providing a stage / platform / gallery for creative living by facilitating community, economic, and artistic / cultural development. NUNU's is located in Arnaudville La., and is part of the Corridor des Arts, an art and culture trail following the highways and byways connecting the colorful Louisiana towns of Sunset, Grand Coteau, Arnaudville, Cecilia, and Henderson.
Artists in the exhibition are represented by the Deux Bayous Gallery at NUNU's. The exhibition contains works by the following artists, Jill Hackney, Scott Finch, Jonathan Mayers, David Carlysle Humphreys, Larry Bourque, George Marks, Lisa diStefano, Brian Baiamonte and Pierre-Marie Huet. The exhibition contains a range of pieces that include paintings, drawings, photographs, and works on paper. The content of the works in the exhibition draw upon the natural surroundings and culture of rural Louisiana. Many of the artists in the exhibit live in Arnaudville or in the surrounding areas, showcasing a rich range of creative capital within the intimate and poetic surroundings of a small Louisiana town. For more information on events at NUNU's and directions please click here. 
The exhibitions are located in the Fletcher Hall, Dean's Gallery, Room 207 on the second floor of Fletcher Hall. Admission is free and open to the public.