Professor Garth Alper to present research at National Conference.
Thu, 04/09/2020 - 1:42pm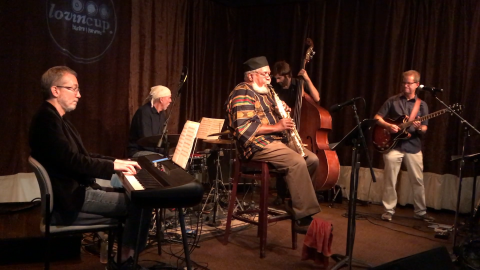 Garth Alper, left, performs with the jazz group "Quintuple" in Rochester, N.Y.
Garth Alper, the coordinator of the jazz studies division in the School of Music & Performing Arts, was scheduled to give a presentation at the 2020 Popular Culture Association National Conference in Philadelphia in April. Even though the conference was cancelled due to the Covid-19 pandemic, Dr. Alper is planning to give the presentation at next year's conference. The presentation, "From Social Protest to Pop Confections: The Remarkable Range of Stevie Wonder's Voice, Lyrics, and Music," will be Garth's 17th presentation at the PCA national conference. The main focus of these presentations has been the relationship between jazz and contemporary American culture. He often explores issues of race, popular music, and the blues musical form within this relationship.
The abstract of this year's presentation states,
"Throughout his nearly six decade-long career, Stevie Wonder has demonstrated a remarkable ability to change the timbre of his voice to match the diverse range of subject matter and instrumental backdrops heard in his music. For this presentation, I will play excerpts from key songs and discuss these skills. In doing so, I hope to engender a deeper appreciation of this singular performing artist. Songs that I will examine include "Pastime Paradise," "You Haven't Done Nothin,'" "Living for the City," "I Just Called to Say I Love You," "Signed, Sealed, Delivered," and "Misstra Know it All."
Dr. Alper has long advocated for the serious study of popular music. He is also an active editorial board member of Popular Music and Society, for which he evaluates for publication approximately five article submissions per year. Ranked in the top quartile of scholarly music journals by the international research group SCImago, Popular Music and Society garners nearly 90,000 full-text downloads annually.