Traditional Music Program Celebrates Three Graduates
Wed, 05/12/2021 - 11:28am
The Dr. Tommy Comeaux Endowed Chair in Traditional Music at the University of Louisiana at Lafayette celebrates three Spring 2021 graduates whose studies focused on traditional music. The School of Music and Performing Arts offers several degree concentrations at the bachelor's and master's levels, including a B.A. concentration in Traditional Music which saw its first graduate in 2019, but this semester's graduates traveled previously uncharted paths in their studies.
Seniors Lucy Rhymes and Devin Sonnier will both be receiving the Bachelor of Music degree with a concentration in Music Media. This degree requires an entrance audition and combines studies of musical performance, audio technology and production, composition, arranging, and music business. Senior recitals in Music Media combine musical performance with media projects such as original compositions, computer synthesis, and short film scores.
Rhymes and Sonnier are the first Music Media students to pursue performance studies in traditional music.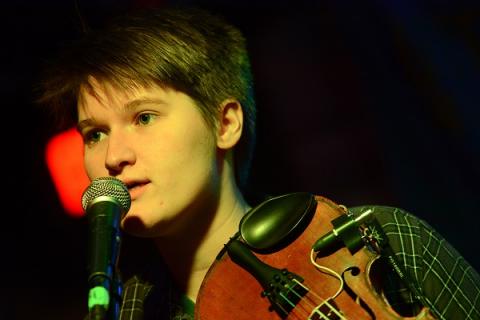 In her performance studies, Ms. Rhymes focused on Cajun and blues fiddle. Her main fiddle teacher was Mr. Kevin Wimmer, known for his work with Balfa Toujours and Steve Riley and the Mamou Playboys, among many others. Rhymes fiddled and sang with the program's Cajun, bluegrass, and blues groups at various points in her studies. After graduation, she will continue to work for Squad Media Company, a business she started last year with Sonnier and fellow student Bryan Spencer.
Devin Sonnier began his college career at South Louisiana Community College, with the intent to transfer to UL Lafayette. While at SLCC, he cross-enrolled at the University to play guitar in its Cajun music ensemble class, then directed by local legend Roddie Romero. After a year, Mr. Sonnier passed his guitar audition for the Music Media major to study blues guitar with the School of Music's multimusical faculty member and 2019 Distinguished Professor, Dr. Jeffrey George. Sonnier went on to be a charter member of the school's acoustic blues ensemble class, now led by Mr. Marty Christian, and serve as president of Ragin' Records, the University's student-run record label. He has been admitted into the University's Master of Music program in music theory and composition for next year.
Pineville native Benjamin Richey will march in UL Lafayette's upcoming Graduate Commencement ceremony to receive a Master of Music degree with a concentration in Performance on the bluegrass banjo. This is the first graduate degree in traditional music performance ever awarded at UL Lafayette. He studied banjo with Ms. Kristin Scott Benson, who taught remotely from her home in South Carolina. Ms. Benson plays banjo with the Grammy-nominated bluegrass group The Grascals, has been named Banjo Player of the Year five times by the International Bluegrass Association, and received the 2018 Steve Martin Prize for Excellence in Banjo and Bluegrass.
Mr. Richey started his studies at UL Lafayette as an undergraduate transfer student, earning his Bachelor of Music in classical guitar performance in 2019. From the moment he arrived at the University, he made it clear to Mark DeWitt, holder of the Dr. Tommy Comeaux Endowed Chair in Traditional Music, that he was also interested in bluegrass. He immediately joined the University's bluegrass ensemble, Vermilion Express, under the direction of founding instructor Dr. Len Springer. A multi-instrumentalist, Richey sang and played banjo, guitar, and mandolin with the group, but quickly got fascinated with the banjo and focused more of his attention on that instrument. As he neared completion of his bachelor's degree, he approached DeWitt with the idea of studying bluegrass banjo performance at the master's level with Ms. Benson as his teacher. After the University agreed to hire Benson as adjunct faculty and make some minor adjustments to the Master of Music requirements, Richey's proposal became a reality.
While an undergraduate in Vermilion Express, Richey traveled with the group to Raleigh, North Carolina to perform at the International Bluegrass Music Association's annual World of Bluegrass event. Determined to overcome the lack of performance opportunities caused by the COVID-19 pandemic during his graduate studies, he arranged to live-stream his master's recital on March 25 from the home of Banjo Ben Clark, near Nashville, Tennessee, in front of a small live audience. His backing band included Dr. Len Springer on fiddle and Nashville musicians Josh Williams (guitar), James Kee (mandolin), and Mickey Harris (bass), with cameo appearances by Benson and Clark.
"UL Lafayette has been a vanguard for the inclusion of traditional music studies in higher education," says Richey. "Their support in helping me achieve my goal of a post secondary degree in bluegrass banjo is a testament to their dedication. My plan for the future includes a performance career and seeking academic prospects in traditional music."
---