Professor Brian Kelly: Solo and National Exhibitions | Workshop at San Diego St. | Prints Acquired by Museums and Featured on PBS
Tue, 09/28/2021 - 10:41am
In the last 4 months, Professor Kelly had 2 solo exhibitions of his prints. "Brian Kelly Prints From 2005–2021" was exhibited at the Chauvin Sculpture Garden Studio in Chauvin, Louisiana and "Gouged, Cut & Band-Aids" an exhibition of recent prints at the Baton Rouge Gallery in Baton Rouge. Kelly's prints were also included in "Moving on" a national printmaking exhibition at the University of North Texas.
Kelly was also a visiting artist at Fresno State University where he presented his personal research and gave demonstrations in techniques associated with stone lithography. Kelly also was featured in season 8 of Louisiana Public Broadcasting "Art Rocks"; a television series that spotlights artists, performance, culture, literature, history, and the impact of art in our world. Kelly will also be included in an upcoming episode of South Florida PBS "Art Loft" television series this coming year.
Additionally, Professor Kelly's lithograph "The Nightmare of 45 and His Confederacy of the KKK" has been acquired and included into the following collections: The Block Museum at Northwestern University, Evanston, IL; and his woodcut …… into the special collections at Highlands University, Las Vegas, NM; Midwestern State University, Wichita Falls, TX; The University of Colorado, Boulder, CO; and The Artist Printmaker Research Collection (AP/RC), Museum of Texas Tech University, Lubbock, TX.
---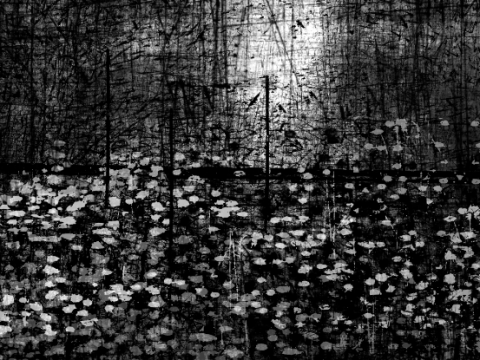 Title: 52.3694° n, 4.9012° e
Medium: lithograph
Year: 2019