Architecture Students Complete HOUSEofCARDS
Thu, 05/05/2022 - 1:27pm
The School of Architecture and Design is celebrating the completion of the student-designed and built HOUSEofCARDS: a concrete self-sufficient artist's retreat in Arnaudville, Louisiana. The 16'x16' one-room cabin is complete with living area, working area, bed, kitchenette, and bathroom. Invited visitors to the event will have a chance to tour the building and enjoy the landscape.
The HOUSEofCARDS is located on the not-for-profit Honey Locust Retreat founded by Hayden Reilly. The retreat is "built to share: this retreat will be for artists, scholars and creative visionaries to soak up the natural setting and gain inspiration from the unique ecology and culture of the area." Artists and scholars may apply to the non-profit in 2023 (after the initial pilot residencies) to be considered for short stays at the retreat. These artists-in-residence will then share their work with the community—continually giving back.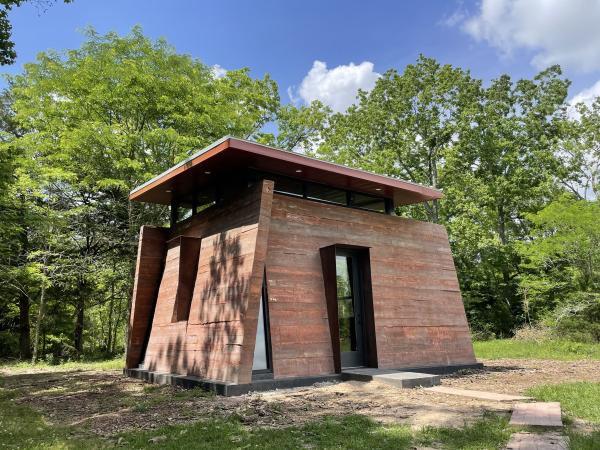 The HOUSEofCARDS is an exercise in concrete, both mentally and physically. The students mixed and poured 80,000 pounds of concrete for the walls. Educationally, the HOUSEofCARDS is an exploration of concrete for the students. The name of the HOUSEofCARDS came from the design process which started with a design game the professor gave the students; they were to design a roughly cubic space with a deck of cards—in this case, 2'x4' precast concrete panels called cards. This eventually led to the cast-in-place concrete structure, which began construction in September 2021. The project is a vivid and tangible example of how UL Lafayette is a proactive contributor to the arts and culture of our local communities.
For 18 years, the UL Lafayette School of Architecture and Design's Building Institute has led students in community service design/build projects like the BeauSoleil Home, the Lafayette Strong Pavilion, and numerous Habitat Homes. The School of Architecture and Design sees this as an essential part of the education of an architect.https://www.Ulbuildinginstitute.com Thirty undergraduate and graduate architecture students took one of three classes this semester and last semester designing and building the HOUSEofCARDS. They put in thousands of hours working on the project. The project is also about interacting and collaborating with clients, builders, suppliers, engineers and consultants. All of whom the students worked alongside.
UL Lafayette wishes to thank the sponsors for this educational service-learning project:
HOUSEofCARDS Financial Sponsors
Premier sponsor: Holly and Smith Architects.
Associated General Contractors, Construction Educational Trust Fund, Vic Weston
Peg Ramier and Brian Erberich.
Atchafalaya National Heritage Area
Construction Specifications Institute, Acadiana Chapter
Grace Hebert Curtis Architects
Billeaud Companies
Enterprise Data Concepts
Peppers Unlimited
American Institute of Architects South Louisiana Chapter
In-Kind Partners and Consultants
ADG Engineering
Alchemco
Chad Aldridge
Joel Breaux
Delahoussaye Company
Distribution International
Doug Ashy Building Materials
Event Solutions
Gulf Coast Air Systems
Iberia Rental
JB Mouton Builders
Lambright Construction
Mapei
Metal Head Architectural Metalwork
Nunu's
Oge's Rent-All Center
Randall J. Hebert & Associates
The Gen Group Construction
Tony Adrian
White Cap
Absolute Concrete Polishing
Dave's Screens and Windows
Armentor Glass