Dean's Message for College of the Arts eNews Fall 2021, vol. 3
As COVID-19 continues to cause concern about how and when we can safely come together, and Hurricane Ida's destruction dispersed our family, friends, and colleagues, it is fitting to remember the centralizing nature of our college. Art, by its nature, brings people together. It brings us together to create and to share and to experience. It finds commonality and expresses our human condition. The College of the Arts is central to the creative culture of Acadiana, the state and the region. Our college is a collection of outstanding faculty, students and staff that uniquely gathers the creative and artistic disciplines into a diverse, exciting, and cohesive unit. We celebrate and respect the unique natures of each of our disciplines. But it is in our commonality as makers, as doers, as interpreters of the human experience that binds us together. Essential to our mission is to engage with all our communities. Our faculty engage through their active practices and service. Our students are immersed in becoming the future creative leaders. Our relationships with local creative organizations and communities are strong and we are working hard to make them even stronger. We are working on projects that put us in a position to be engaged and serve as many creative communities as possible. One way we are doing this is through initiatives that look to support and offer access to those that are interested in pursuing a career in the arts.
For example, the Department of Visual Arts launched the 'Next Gen Louisiana High School Juried Art Show' that offers high school art programs across the state an opportunity to showcase their best work, engage in a juried process, and the chance to be selected for prizes. The School of Music conducts clinics to provide tips and strategies for high school musicians preparing for auditions. The School of Architecture and Design participates in Project Pipeline, a project of the National Organization of Minority Architecture Students whose mission is to empower young people to affect change in their community through design.
We are actively building creative communities in the College of the Arts. We are supporting, engaging, increasing access, and leading. When so much in the world pulls us apart, we are bringing people together.
—Michael McClure, Interim Dean
---
Dean's Message for College of the Arts eNews Spring 2021, vol. 2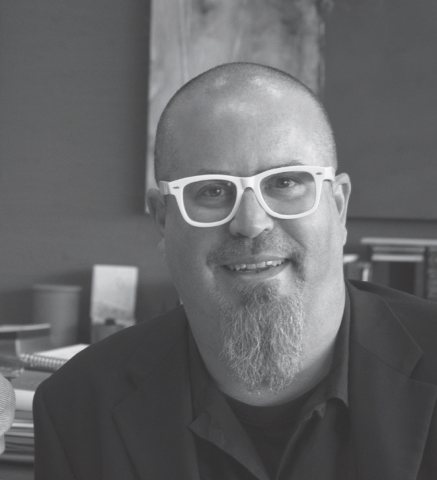 Spring has sprung and the usual optimism of the season is exaggerated by an increasing hope for a 'Post-COVID19' reality. You all have been asked to work towards a return to in-person teaching and learning in the Fall. What a remarkable and encouraging future to envision! Even during a global health crisis, our students, faculty and staff continue to thrive. Our students continue to win national accolades and are consistently named among the top graduates of the University. Our faculty continue to create, to research, to find new ways to teach and inspire. This semester we started seeing a return of our work in the public realm. Initially through online galleries, streaming and recorded productions, now increasingly through more live performances, exhibitions, and workshops. We all know that there will not be a magical 'return to normal'. Events of last year have changed the world, and as engaged creatives I have no doubt we will be leaders in figuring out how to proceed. As we think about the future, now is as good a time as any to reflect on the impact of what we do.
At almost every orientation of incoming freshman, Assistant Dean Lori Crain tells a story about when her son Zach, who was being overly cynical, asked her, 'Why would anyone major in the Arts?'. Lori responds with a listing of all the things around them and in their lives that relate directly to the College of the Arts; art, music, design, dance, and performance are everywhere. You will often hear me say the phrase 'we are the people who make the world more beautiful, more useful, and more meaningful'. I believe in that statement, but it is only a shorthand for the impact the arts have on society.
Research helps us enumerate the impact of the Arts on both our quality of life and the financial bottom line. In 2015 a study from the University of Michigan found that 87% of adults in the US believe that the Arts are important to your quality of life. 82% believe that the Arts are important to local businesses and the economy.[1] The National Endowment of the Arts data shows that the Arts added $919.7 Billion to the US GDP in 2021. That is a larger part of the economy than agriculture. And the Arts economic impact is growing at 3% from 2017–2019. This is a higher growth rate than the US economy. In Louisiana, the Arts added $5.9 Billion to the state economy in 2017.[2]
Those facts and figures illustrate what we already know: The Arts are important in our daily lives and have an impact on the world. It will do us well to keep that impact in mind as we begin to reengage, and to help form the inevitable but not yet knowable Post-Covid reality.
—Michael McClure, Interim Dean
---
Dean's Message for College of the Arts eNews Spring 2021, vol. 1
This January, UL Lafayette, the College of the Arts and the School of Architecture and Design lost our friend, colleague, and student, Rob Jones. My heart is heavy and goes out to his family, friends, classmates, and faculty. His talent, wit, generosity, and dedication will be sorely missed. To those of us who knew Rob, this loss is personal and tragic. It is a life of great potential cut short. As I sat with my thoughts of Rob and regarded my concern for the well-being of all our students, faculty, and staff, I began to think about the idea of potential in the arts. Understanding potential and embracing the emergent is an essential tool to all the creative fields. Because we learn by doing, we make all kinds of mistakes. It is in the doing that we experience the potential of the work to come. We are a critical, but optimistic group. We look for the potential in almost everything.
Anyone who teaches or works in the College of the Arts knows firsthand the potential of our students. It is our job to nurture, critique, expose, train, and explore their potential creativity and skills. Our active teaching and learning method is personal and powerful. We hope that our students will learn to appreciate their capacity to become the artist, performer, designer that is impactful, relevant, and heard. We hope that they will learn the techniques to keep developing and uncovering their unrealized potential. We work to ensure that their time in the College of the Arts is spent testing their abilities and applying their talents. We expose them to the latent possibilities of their work to impact the world around us. We want them to experience the joy of creating while respecting the heavy responsibility of making the next generation of art, design, music, and performance.
Maybe the greatest potential of the creative process is that we celebrate what we can't even predict will happen. The yet unknown is often our guide.
My thoughts are with all of you as we struggle through these trying times. My thoughts are with Rob's family, friends, colleagues, and faculty. I remain steadfastly optimistic about the importance of what we do. I will keep looking for the potential in almost everything.
Best,
Michael