Dean's Message for College of the Arts eNews (Spring 2022, vol. 2)
The semester is winding down in the College of the Arts. With the support of dedicated staff, our students and faculty have participated in countless lessons, lectures, critiques, and rehearsals. They have produced an exceptional array of research, scholarship and original creative works in design, visual arts, music, dance and theatre. There have been so many amazing performances, lectures, and exhibitions!
One of those events happened on March 18 when we had the chance to gather to celebrate our SPARK Award Honorees. It was a magical night of community and recognition for our Young Alumni honoree Justine Hebert, our Lifetime Faculty and Staff honoree Dickie Wagner, and our SPARK Lifetime Achievement Award honoree Grace Hamilton Mayfield. At the College of the Arts, we are so proud to be represented by such accomplished and talented alumni and friends.
Dr. Joseph Savoie, UL Lafayette president, gave a remarkable talk that night. He referred to a Knight Foundation and Gallup survey that asked 43,000 people in 26 communities what attaches someone to the place they call home. Most respondents said that it was arts and culture that attaches them to their home. Dr. Savoie quoted the head of the Knight Foundation:
Art binds. Culture generates social capital and strengthens a community's character. Art brings people together physically – in galleries, museums, performances spaces, and culturally, through its capacity to tell a community's shared story to inspire reflection, and form connections that transcend difference.
Dr. Savoie went on to say that the College of the Arts faculty, staff, students and alumni remind us every day the power that art has to find truth, inspire empathy, brighten dark corners, and relieve life's burdens.
I could not have said it any better.
---
Dean's Message for College of the Arts eNews (Spring 2022, vol. 1)
Welcome to the Spring 2022 Semester and the first College of the Arts enews to be sent to our alumni and friends. The enews was started over 10 years ago to share faculty, staff, and student achievements within the College. Later we added University leadership to the list of recipients, and now we are sending it out to all of you! The enews has changed over the years in format and distribution. But it remains a venue to regularly communicate our values and impact with our community. It is a means to celebrate the remarkable work and achievements of the students, faculty, and staff of the College of the Arts.
This might even be the introduction of the College of the Arts to many of our alumni and friends. During your time here at UL Lafayette, you might have been so focused on your chosen creative discipline, and spent so much time in your studios, classrooms, and practice rooms that you might not have been aware of the wide range of creative fields housed in the College of the Arts. At once both a collection of diverse departments and a cohesive unit that demonstrates the power of creativity, the College of the Arts is a force on campus and in the community. We are proud to teach the next generation of creative leaders. We are privileged to bring new creative works, research, and scholarship to the world. We are honored to be a central creative force in Acadiana, Louisiana, and the world.
Our communication is only as good as the contact information we have. We rely on the Alumni Association to get this enews, our annual report, and other notices to all our alumni and friends. So, please spread the word to your friends and classmates. If they did not get this enews, send them to the alumni website to update their contact information. You can also go there to make sure that your information is up to date. Here is the link:
https://alumni.louisiana.edu/membership/update-profile
We are still working through issues of creating and presenting art during the ongoing pandemic. It seems like every week there is a new factor to take into consideration. Watch our website (arts.louisiana.edu) and follow us on social media (facebook, Instagram, YouTube) to stay up to date on our upcoming online and in-person lectures, concerts, exhibition openings, performances, and events
Take care, and I hope to see you real soon at a College of the Arts event.
Michael
---
Dean's Message for College of the Arts eNews Fall 2021, vol. 4
Guest Contributor: Dr. William Plummer
[NOTE:In this issue we bring you an inspiring message from Dr. William Plummer, Director of Choral Activities in the School of Music and Performing Arts, based on his spoken remarks before the Fall 2021 Choirs concert, the first live concert by the choir program in more than 18 months.]
Hello everyone and welcome to this, our first concert in person in nearly two years. Back in the spring of 2020, we were preparing an incredible performance for you, when just a few mere weeks before our spring concert, we were halted by a global shutdown of choirs. Sadly that concert program is not this concert program, but the one we prepared then still lives in the minds and hearts of those who toiled over that beautiful music, and became so emotionally invested in it. And although it never got performed, that music is still a part of all of us. On that sad and surreal day I resolved that I would find a way for us to continue make music in some form, and to perform—safely—somehow—in spite of a worldwide choral shutdown.
Graciously through the generosity of UL Intramural and Recreational Sports, we were allowed to rehearse in an outdoor pavilion which our three choirs did last fall and this spring. We also managed to record two full concerts and put them out on YouTube for you to enjoy, by recording frequently and for brief durations every few weeks. We managed to do all of this without a single. Without a Single Covid transmission in any of our three choirs. Although I have regarded highly many of the things which our students and I have accomplished together through my 19 semesters here, I consider this to be our greatest accomplishment: for all our choral students to make it through the pandemic safely due to the measures we put in place—and not only to survive but to make art, to have human interaction and community, and continue to build up this phenomenal choral program even in the face of adversity on a global scale.
You can tell by the front of your program, that "Journeys" is the title of this concert. Since March of 2020 I've done a lot of thinking about the act of traveling—yearning to travel myself during most of 2020. Wishing for an escape to another place for a few weeks to revive and refresh. Last year, I encountered many of the feelings you did: of being isolated and alone, being afraid, and grieving over the lack of something normal. I had a lot of time last year to think about the difference between the act of traveling and the act of journeying.
Travel on the one hand is almost always done with the destination in mind. However, for the journey, often the destination is not clear. Travel involves a set path, a given route, the road, a Highway, an airspace. Journeys can take circuitous routes. They keep no timetable. They follow no normative paths. They may even seem circular rather than linear. During a time when so many things were not normal, there was very little travel happening in any sense of the word, as many of the normal paths, actions, and methods were closed. This pushed many of us out of our daily routines and into broader journeys. Journeys like finding a new normal for ourselves, like figuring out the things that matter the most, like keeping our families and ourselves safe.
You see, Travel is often taken individually: a vacation, a road trip, a flight to a business location, a commute to work or school… but a Journey could just as easily involve all of us as a community: a journey is Getting through the worst, and doing so together; it is helping each other become better people in spite of adversity, it is working toward solving problems as a human species…
There are many different kinds of Journeys: spiritual journeys, emotional journeys, intellectual journeys… During this past year, perhaps more than any other year, we have traveled so little, but our emotional journeys have been great. Together we have borne the burden of a departure for normalcy, the burden of grief, the burden of mourning the dead. We have been faced with individual, personal decisions, forks in our own paths, which held the weight of consequence and risk. Our Journeys have been ones of managing and mitigating those risks, of having to learn new ways to do old things, or of simply surviving.
You will hear music tonight that resonates with these journeys: with your Journeys. You'll hear music tonight that is restless and yearning. Music that starts in one key and ends in another key. music searching for a familiar place to return to. music that rejects by choice the comfort of familiarity in favor of pleasures of wandering. music which passes through stages of grief toward reconciliation, and music that confronts obstacles, dissonances, and frustrations, which it must successfully overcome.
You see, It strikes me that this is a moment for real-ness. A moment in which we can take a sober look at what we once were, and what we are still striving to become. It is a time to be emotionally engaged in and appreciative of the simple things which we previously took for granted: things such as feeling a sense of community, of singing together in perfect harmony, or simply of being able to hear wonderful music in person. These are pleasures which we can never take for granted again.
This is UL Lafayette's homecoming weekend, and we are dressed in school colors and attire, but it is an even more profound and deeply-felt homecoming for our choirs, as we returned to our choir room this fall, and into this performance space once again.
Now please join together to welcome the phenomenal UL Lafayette men's chorale and their student soloists to the stage in their first ever live concert performance.
Regards,
William
---
Dean's Message for College of the Arts eNews Fall 2021, vol. 3
As COVID-19 continues to cause concern about how and when we can safely come together, and Hurricane Ida's destruction dispersed our family, friends, and colleagues, it is fitting to remember the centralizing nature of our college. Art, by its nature, brings people together. It brings us together to create and to share and to experience. It finds commonality and expresses our human condition. The College of the Arts is central to the creative culture of Acadiana, the state and the region. Our college is a collection of outstanding faculty, students and staff that uniquely gathers the creative and artistic disciplines into a diverse, exciting, and cohesive unit. We celebrate and respect the unique natures of each of our disciplines. But it is in our commonality as makers, as doers, as interpreters of the human experience that binds us together. Essential to our mission is to engage with all our communities. Our faculty engage through their active practices and service. Our students are immersed in becoming the future creative leaders. Our relationships with local creative organizations and communities are strong and we are working hard to make them even stronger. We are working on projects that put us in a position to be engaged and serve as many creative communities as possible. One way we are doing this is through initiatives that look to support and offer access to those that are interested in pursuing a career in the arts.
For example, the Department of Visual Arts launched the 'Next Gen Louisiana High School Juried Art Show' that offers high school art programs across the state an opportunity to showcase their best work, engage in a juried process, and the chance to be selected for prizes. The School of Music conducts clinics to provide tips and strategies for high school musicians preparing for auditions. The School of Architecture and Design participates in Project Pipeline, a project of the National Organization of Minority Architecture Students whose mission is to empower young people to affect change in their community through design.
We are actively building creative communities in the College of the Arts. We are supporting, engaging, increasing access, and leading. When so much in the world pulls us apart, we are bringing people together.
—Michael McClure, Interim Dean
---
Dean's Message for College of the Arts eNews Spring 2021, vol. 2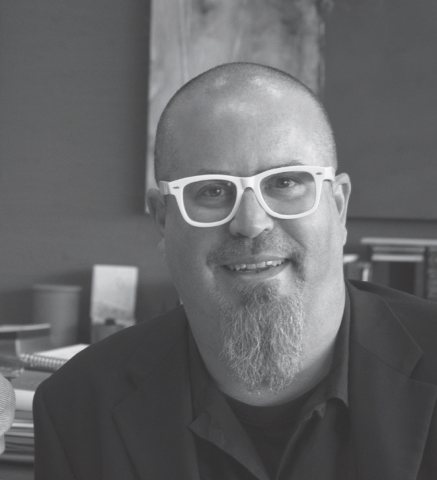 Spring has sprung and the usual optimism of the season is exaggerated by an increasing hope for a 'Post-COVID19' reality. You all have been asked to work towards a return to in-person teaching and learning in the Fall. What a remarkable and encouraging future to envision! Even during a global health crisis, our students, faculty and staff continue to thrive. Our students continue to win national accolades and are consistently named among the top graduates of the University. Our faculty continue to create, to research, to find new ways to teach and inspire. This semester we started seeing a return of our work in the public realm. Initially through online galleries, streaming and recorded productions, now increasingly through more live performances, exhibitions, and workshops. We all know that there will not be a magical 'return to normal'. Events of last year have changed the world, and as engaged creatives I have no doubt we will be leaders in figuring out how to proceed. As we think about the future, now is as good a time as any to reflect on the impact of what we do.
At almost every orientation of incoming freshman, Assistant Dean Lori Crain tells a story about when her son Zach, who was being overly cynical, asked her, 'Why would anyone major in the Arts?'. Lori responds with a listing of all the things around them and in their lives that relate directly to the College of the Arts; art, music, design, dance, and performance are everywhere. You will often hear me say the phrase 'we are the people who make the world more beautiful, more useful, and more meaningful'. I believe in that statement, but it is only a shorthand for the impact the arts have on society.
Research helps us enumerate the impact of the Arts on both our quality of life and the financial bottom line. In 2015 a study from the University of Michigan found that 87% of adults in the US believe that the Arts are important to your quality of life. 82% believe that the Arts are important to local businesses and the economy.[1] The National Endowment of the Arts data shows that the Arts added $919.7 Billion to the US GDP in 2021. That is a larger part of the economy than agriculture. And the Arts economic impact is growing at 3% from 2017–2019. This is a higher growth rate than the US economy. In Louisiana, the Arts added $5.9 Billion to the state economy in 2017.[2]
Those facts and figures illustrate what we already know: The Arts are important in our daily lives and have an impact on the world. It will do us well to keep that impact in mind as we begin to reengage, and to help form the inevitable but not yet knowable Post-Covid reality.
—Michael McClure, Interim Dean
---
Dean's Message for College of the Arts eNews Spring 2021, vol. 1
This January, UL Lafayette, the College of the Arts and the School of Architecture and Design lost our friend, colleague, and student, Rob Jones. My heart is heavy and goes out to his family, friends, classmates, and faculty. His talent, wit, generosity, and dedication will be sorely missed. To those of us who knew Rob, this loss is personal and tragic. It is a life of great potential cut short. As I sat with my thoughts of Rob and regarded my concern for the well-being of all our students, faculty, and staff, I began to think about the idea of potential in the arts. Understanding potential and embracing the emergent is an essential tool to all the creative fields. Because we learn by doing, we make all kinds of mistakes. It is in the doing that we experience the potential of the work to come. We are a critical, but optimistic group. We look for the potential in almost everything.
Anyone who teaches or works in the College of the Arts knows firsthand the potential of our students. It is our job to nurture, critique, expose, train, and explore their potential creativity and skills. Our active teaching and learning method is personal and powerful. We hope that our students will learn to appreciate their capacity to become the artist, performer, designer that is impactful, relevant, and heard. We hope that they will learn the techniques to keep developing and uncovering their unrealized potential. We work to ensure that their time in the College of the Arts is spent testing their abilities and applying their talents. We expose them to the latent possibilities of their work to impact the world around us. We want them to experience the joy of creating while respecting the heavy responsibility of making the next generation of art, design, music, and performance.
Maybe the greatest potential of the creative process is that we celebrate what we can't even predict will happen. The yet unknown is often our guide.
My thoughts are with all of you as we struggle through these trying times. My thoughts are with Rob's family, friends, colleagues, and faculty. I remain steadfastly optimistic about the importance of what we do. I will keep looking for the potential in almost everything.
Best,
Michael